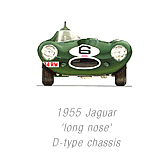 With warehouses located in Markham, Ontario and Lewiston, New York, Brown's Lane ships quality jaguar restoration and performance parts throughout North America daily. We specialize in Jaguars from 1948 to 1988. With locations both north and south of the US/Canada border, we save you the additional costs and delays of importing your parts from other suppliers.
Brown's Lane is a family-run business where our highest priority is assisting our customers with restorations of their cars to the highest standards. We are Jaguar lovers ourselves with a number of Jaguars in our own family.  Jaguars are not only our only business; they are a way of life for us. Our service commitment not only includes your satisfaction with the quality of our parts…it includes the free technical advice we provide. Our only objective is to ensure your continued enjoyment of these classic works of art. With over 10,000 parts in stock, orders placed by 3:00 PM EST are shipped same day.
New in 2009, we have opened our restoration and fabrication division. Presently we have 7 cars undergoing restoration, from simple repaints to three cars undergoing complete nut-and-bolt builds. We can help you with your own restoration. We can rebuild something as small as a steering rack to something more complex like a complete rear suspension system. We have over 40 years of experience building engines and a number of our race cylinder heads are winning in vintage racing.
Take a look through our current projects pages and see what we are up to!